***Make Money Online***
The world economy Is slowly but surely clawing its way back from the devastating effects of the evil pandemic that knocked the wind out of everyone and everything. While this is happening the global elite still categorize the masses into three distinct groups.
- 1 Some make things happen. (you & me)
- 2 Some watch and accept the things that happen.
- 3 Some have no clue what is happening.
In which category do you fall?
The fast-moving world of crypto, tech, mobile finance, work-from-home-employment models and this metaverse thing is making it difficult to stay sane and focused. The relentless tsunami of this social media, information overload that attacks us daily definitely does not help to calm our minds, does it?
Surviving in this plugged-in digital world, we need to adopt guerilla warfare tactics. Give it all up and find a cabin in the woods? No, not a good idea, no wifi… ;-)
Dog Lover - T-Shirt Fun
Visit The Funky Clothing Store
So, what is the alternative?
- Make an effort to become disciplined.
- Avoid the social media scrolling trap.
- Avoid buying THINGS you don't need to impress people you don't know.
- Avoid debt and adopt minimalism.
Fact: If you follow a specific recipe, you will get specific results.
Fact: If you follow the same recipe but expect a different result, you will be disappointed.
Solution: Change the recipe to get a different result.
- Where are you investing your extra cash? In the boring old bank?
- Still scared of cryptocurrencies?
- Do you know how to buy, store and trade with Bitcoin?
- Have you considered digital banking platforms over traditional banks?
- Still, using an old school broker to buy stocks that make him money?
- Have u considered 'investment apps?
Fact: The way to financial independence is paved with multiple income streams.
Fact: Salary earners are 6 payslips away from disaster.
It is very difficult to use the words JOB and SECURITY in the same sentence. Job security in any industry is not a hot topic today, is it?
- Good Idea: start a side hustle (or two) with the idea to replace your salary in the future.
- If you have an 'offline' brick and mortar business, consider taking it 'online'.
- No experience with an online business? Take the time and LEARN.
What will 2022 look like for you?
Will you be following your same old recipes?
Invest, bank, and doing business in the same way?
Or will you have the 'balls' to adopt new strategies that could result in new outcomes?
Crypto:
The poster child of the crypto world, Bitcoin, has died and come back to life many times. It turns out that not only Bitcoin, but crypto and the blockchain are here to stay and influence our lives far into the future.
Business owners that are willing to accept crypto as a payment method will reap the benefits. Yes, digital gold is very volatile, but all the crystal balls point to a future where Bitcoin is more stable and widely adopted by mainstream businesses.
Fact: El Salvador became the first country to accept Bitcoin as legal currency.
Speculation: It is believed that 20% of Bitcoin is lost forever. Don't become part of statistics. Educate yourself on how to buy, store and transact with Bitcoin.
Global, fractional, property investment:
In the last few years, we have seen the rise of fractional share offerings from platforms such as Robinhood and Easy Equities. This gave all levels of investors a chance to invest in large scale property developments such as residential estates.
Do you want to get in on the property investing action but are not in the mood for renters and broken water pipes? This is a great alternative.
Real Estate Investment Trusts (REIT), is a great way to diversify your portfolio without being hands-on dealing with day to day management.
The trust own and manage the property while you can buy fractional shares of the asset.
Forget the old-school bank, this is a far better option.
Metaverse:
When Zuckerberg announced the name change of FB to META, the decision received large-scale negativity and suspicion. However, the same way Death & Taxes will be part of our lives forever and ever, the same way The Metaverse will be part of our future.
- Keep in mind that although Mr Z and his gang members are trying to dominate the playing field from the start, they could end up being just another tiny part of this massive cataclysmic, or amazing, event!
- The question remains, how can you make it work for you? What can you invest in today, that will be big in META tomorrow?
- Fact: you cannot ignore it, as it will not go away. So, rather embrace it and make it work to your advantage.
- Business owner? Your opportunities are endless in this new space...
- Payment method within the ….Verse? You guessed it, Crypto Currencies!
- Alternative investments and a possible store of value: Non Fungible Tokens or NFT's. In simpler terms: Data stored on the blockchain. Artists, this is your time to shine…
Online Business Growth:
Got a bad taste in your mouth from the pandemic? Maybe you have been retrenched and are desperately looking for a new JOB!
- Consider building your own Online Business Empire.
- Fact: The worldwide e-learning market is projected to be worth $325 Billion in 2025.
- What skills and or talents do you have that could benefit others?
- Are you able to solve a problem for someone else with the knowledge and skills that you have?
- Monetize yourself by creating an online course that could help others solve a problem. Teachable and Thinkific are great platforms to start with.
- Retrenchment or opportunity? You decide.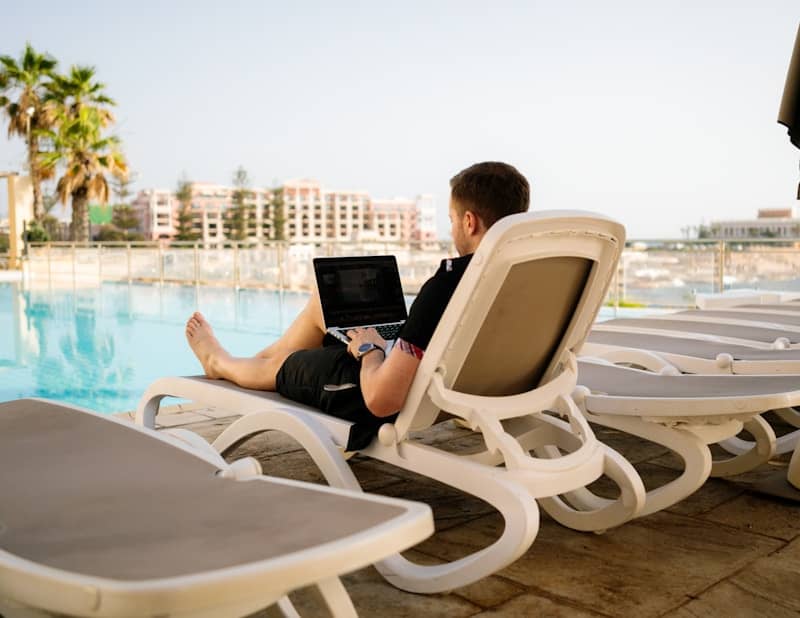 All of the above are just some areas that you can research and invest time and energy into to make the new year a different year than the last.
All the best for 2022 – Hope you are dressed for tech-success!