***Make Money Online***
Are you clinging on to a dead-end JOB?
Are you frustrated with your circumstances and feel that there should be more to life than a Monday to Friday 9-5?
Have you ever wondered what it must be like to NOT stress about month-end expenses?
Do you fall in one of the following categories?
- Restaurant Worker.
- Call Center Agent.
- Retail Sales Assistant.
- Housekeeping Staff.
- Insurance Salesman.
- Car Salesman.
- Tour Guide.
So, what is wrong with these JOBS? Nothing.
They are great, respectable jobs that bring home the bacon and give the employee a sense of self-worth. I have done the majority of the menu above and was involved in many different industries.
Did they make me financially stress-free? NO.
Did they give me lots of free time to pursue my passions and other interests? NO.
I wanted more and I knew that there is a way to pursue happiness. But first, let' get something straight. Money does not buy happiness; it gives you choices. Money does not end all your problems; it gives you different ways to end your problems.
If you are a miserable fart and you win the Lotto, then basically you will become a miserable fart with lots of money in the bank.
The sudden acquisition of wealth will only enhance the core person that you are.
---------------------------------------------------------------------------------------
So, I knew that there is something else than trading time for money, and I was determined to break on through to the other side. I decided that I will be willing to do what others are not. You see when you are stuck in a low-paying job you are surrounded by three types of people.
1 – The 'Let's hang around the water cooler and bitch about our circumstances' crowd. They absolutely HATE their jobs, but they do it because they need to pay the rent. They gossip about their fellow employees and even more so about the boss. This is also, unfortunately, where you will find them 5 years later. Beside the water cooler bitching about their jobs and hating the boss.
2 – Then you get the focused individuals. They realize that they have a low-paying entry-level job, but they are happy for the opportunity and do their best to do their job to the best of their ability. They are normally the go-getters that get promoted to higher positions and put in charge of the water cooler crowd.
3- Then you get the 'others'. Employees that are thankful for their jobs and the ability to put food on the table. However, when the gossip crowd gets together, they are sitting alone at their desk during lunch break while secretly working on a business plan. They learn about and study successful businesses. They look for opportunities and not for other jobs. Then when the gossip crowd gathers around the water cooler for the second year the entrepreneur's hand in their resignation and kick-start their businesses.
In which category do you fall? 1,2 or 3?
Focus on the business mindset.
Sometimes aspiring entrepreneurs get it wrong; they think that to be a businessman/woman you have to be a clone of Elon Musk or Jeff Bezos. You don't.
They think that being a businessman/woman you need to swindle all your clients out of their hard-earned money and trample on everyone and everything to reach the top. You don't.
True entrepreneurs look for opportunities where they can help others.
A true entrepreneur builds systems that not only help others but also help their own families to enjoy an automated income via RETURNING CLIENTS.
RETURNING CLIENTS are the lifeblood of their business.
How do you create a returning client?
You solve a problem for them, consistently and at a reasonable price tag while smiling and asking them about their day.
---------------------------------------------------------------------------------------
Planning to leave the restaurant industry and do your own thing?
Here is a suggestion that could get you out of the apron and into the driving seat of your own business.
From Tips & Commission To Business Owner in 1 Day!
Case study:
You are a waiter working in a busy restaurant. You have been there for two years and you are ready for something else and have been thinking of starting your own business.
Your Skills:
1 – Video editing
2 – One-on-one marketing
3 – Preparing 5-star desserts
Your Dream:
To publish a specialty cookbook about 5-star desserts.
Your challenge:
You are stuck at the restaurant and live a hand-to-mouth existence. You are good at your job, and the money is ok, but you have no savings and cannot just quit, to focus on your cookbook. You are stuck in a catch 22 situation, or…is there a way out?
For an entrepreneur, there is always a way out!
This is what you are going to do:
Phase 1:
Step 1:
Every time you start your shift in the restaurant you will tell yourself that your allocated tables are YOUR clients. Not the restauranteur's clients, they are YOUR clients.
Serve them in such a way that they have to become returning clients. Forget about the tips and focus on their experience – the tips will follow. More than ever.
By doing this, you have just become a business owner in one day! How come?
Because your mindset changed from order taker to business owner. Step 1…
Step 2:
You need to replace your waiter income with another more sustainable income.
Now that you are a business owner your next step is crucial for your growth. Remember, your goal is to sell a specialty cookbook but you don't have any time to create it as all your time is taken up by the restaurant.
How do we solve this?
- Search for a company that supplies organic cleaning materials such as soap, dish washing liquid, and surface cleaner.
- Negotiate bulk buying prices with them.
- Create different packages with a variety of their products in the different packages.
- Without purchasing any products yet, find ten households that will be willing to purchase your unique, organic cleaning bundles on a monthly basis.
- By doing this you will validate your product and monthly delivery service and secure a small sustainable income.
- Now you purchase the first batch of products, create the bundles, and deliver to your pre-qualified clients.
Tantor! 2000 Piece Framed Puzzle
Visit Store - Unique Items 4 Unique Individuals
Phase 2
- Go through two months of running your two businesses. (Your business within the businesses of the restaurant where you work and the organic cleaning product delivery business.)
- Within these two months, write down every night what you're earning where for the night. By doing this you will have some financial data to base certain decisions on.
- Now it is the end of the 2nd month. You have already delivered twice to your organic clients and you have two months of recording your tips from the restaurant. So, you know exactly the average amount of money you earn and what you need to survive. Remember, the plan is to get you out of the restaurant with plenty of free time to spend working on your specialty cookbook.
- For argument's sake you make on average $3000 per month at the restaurant. If your profit per organic delivery bundle is $50 then you need to have 60 clients that will commit to becoming your clients.
- Now, you make it your mission in life to find another 50 clients (you already had ten) and when you find them you can resign from the restaurant because you have replaced your income from the restaurant.
Phase 3
- Since you have replaced your waiter income you have plenty of time to pursue your dreams.
- Important to note is that for the delivery business to work smoothly, you have to implement systems and procedures. Systems are the backbone of a good business and they are non-negotiable.
- You need to deliver at the same time, date, and place. Your packaging should be standardized and your payment system should preferably be cashless.
- Remember, the delivery business is not your main goal, so don't get sidetracked and try to add more products. Just focus on becoming known for your specific products and the quick service you deliver.
- Write down an end date and start creating your specialized cookbook. Keep in mind that it will be in a digital format and that it could possibly be the first of a few E-Books that you will create.
- Start a YouTube channel where you constantly upload videos of yourself preparing some of the delicious desserts you create. Yes, I want you to GIVE AWAY 50% of the recipes you will include in the Cookbook. You need to build the 'Know-Like-Trust' factor with your audience.
- Once you have uploaded approximately 30 videos you have automatically built yourself a little following of pre-qualified fans that would potentially buy your E-Book.
- At this stage you could make your true fans aware that you have included a FREE pdf download that contains a handful of your best dessert recipes. Once again you are building trust with them.
- While all of this is going on you still manage your organic cleaning material business with military precision. Maybe you have acquired a few new clients and you are considering employing a scooter delivery dude on a freelance basis. This will free your hands even more and you only have to manage the orders and payments.
Let's Recap:
- Goal: Leave waiter job. DONE.
- Replace waiter income with NICHE delivery business. DONE.
- Start working on specialty cookbook. DONE.
- Create a YouTube Channel to showcase your dessert-making skills. DONE.
- Create a FREE pdf download with free dessert recipes while building TRUST with your audience. DONE.
- When your viewers want the pdf download, they have to give you their email addresses, which you in return will use to promote your beautiful product range to them. It's a win-win situation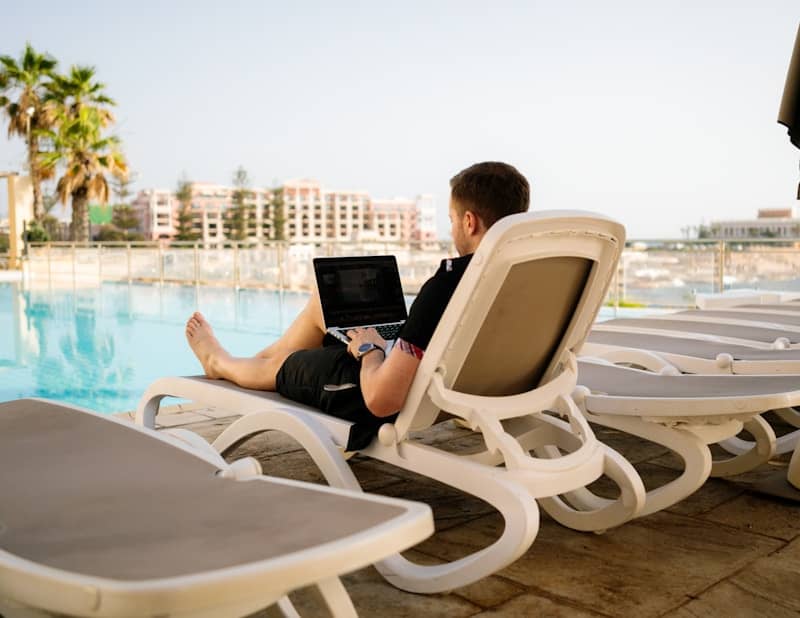 Phase 4:
- Start promoting your beautiful E-Recipe Book, filled to the brim with stunning 5-star dessert recipes, as well as tips and tricks of your trade, to your audience.
- Remember, your YouTube videos are short tutorials and how-to guides on creating the perfect deserts. Your viewers are all pre-qualified to become clients of the E-Recipe Book. At the end of each video, you tell your audience about your new publication and point them to a download link that will take them to a check-out page.
- So now, you have a basic income coming from the organic cleaning product delivery business as well as the sales from your E-Recipe Book.
- Next step is to create a membership site for which your true fans will pay a monthly fee. This membership site will consist of numerous videos, tutorials, how-to guides, pdf downloads, and weekly coaching calls with you. It will be a community of like-minded people that share their knowledge and hang out together in a digital space that you created.
- Another, consistent income stream that you can add to the list of your multiple income streams.
- Important to note here is that your passion is not to talk about organic cleaning materials, but one of your businesses solves a problem for some of your clients. They receive an environmentally friendly cleaning product at a great price, delivered to their door. You used this business model to be able to get to break free from the restaurant and free up time to create your recipe book, which is your true passion.
- Now you have three income streams: The delivery service / the E-Recipe Book / Membership Site. Now is also the time to manage your business and put certain systems in place that will make it run smoothly. Consider hiring Virtual Assistants to help you with day-to-day tasks such as video editing, email management, and answering questions on your membership site.
This is a broad basic framework of what is possible within the online business world, and with a little bit of drive and getting clear on your goals, anything is possible.
Replace the organic cleaning products and the E-Recipe Book with whatever your passion is and follow the same framework to create an automated income.
Power To The People.
Would you like to become an online entrepreneur?
Consider the YOU-24/777 Academy FB group. An interactive online meeting place for start-up entrepreneurs. Gather knowledge and find inspiration!
If you would like to get started with an online business, but you are not sure where to start (because of a tsunami of conflicting information) then click on the link below and get a FREE basic framework for online success.