***The Do's & Don'ts of your future online business***
***Make Money Online***
My journey started in March 2020. (Does that date ring a bell?)
With my tourism business on the back-burner and challenging financial times knocking on the front door, I knew it was time to start thinking out of the box. Shortly afterward, myself and 280k other adventurous Crypto-Pioneer investors were taken for a ride by the scam of the year. Mirror Trading International fooled us all with lots of smoke, mirrors, and good old-fashioned stupidity from our side. Lesson learned, if it sounds too good to be true (10% return on Bitcoin investment) then it most probably is too good to be true.
With the shame and anger of the Bitcoin scam still fresh in my memory, I started researching 'other' opportunities to make money online. I have heard of the nomad laptop lifestyle and was wondering if it falls into the same 'myth' category as passive income. Could it be true? This lifestyle of; let's-travel-the-world-while-making-money-with-blogs-and-digital products, huh?
Down the rabbit hole I went; digital nomad, laptop lifestyle, online business, online mindset, YouTubers, bloggers, Squarespace, WordPress, passive income, automated income, webinars, sales funnels, online courses, and Instagram! Where was I supposed to begin?
I have always been semi against social media and its dark agenda, but I very quickly saw the massive potential of social media when you run a business, even more so when you run an online business.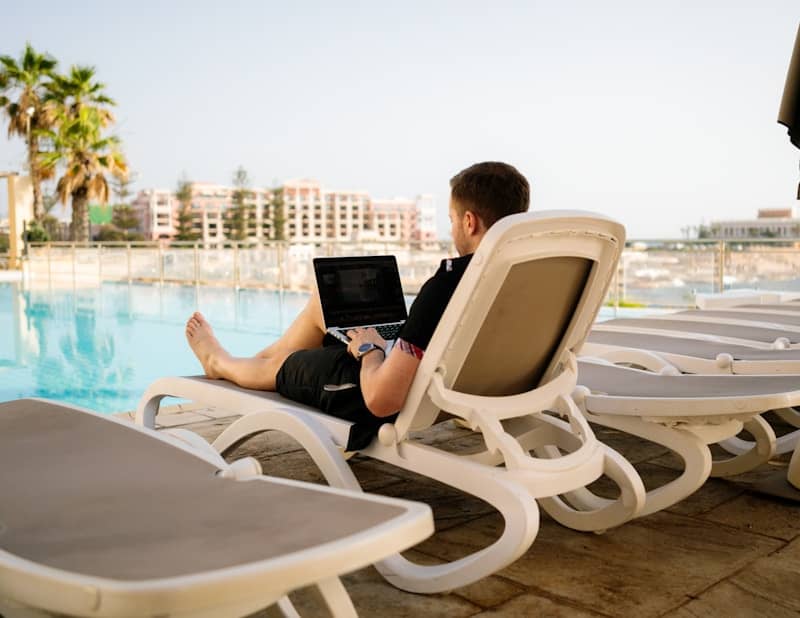 The Journey Started:
The F1 race down the rabbit hole became faster and faster. I got hooked on Peter McKinnon, Vanessa Lau, Gillian Perkins, and James Cochrane. They became my superheroes, my idols, and my go-to resources for information on this wonderful topic.
Together with my team of gurus, we cruised the highways and byways of the internet, unafraid and ready for action. We saw the nomads sitting on idyllic beaches with their laptops, we saw the bloggers and the pod-casters collaborating in funky neon studios and we sipped coffee with a productivity addict that taught us how to streamline our lives. It was a fantastic time of learning and dreaming, but somehow, I needed to stop studying and start doing the things I learned.
I shifted gears, gripped the steering wheel tightly, and shouted; Carpe Diem!
- I created a new Instagram account - @instaGJacques.
- Gave birth to my blogging site on the Ghost platform.
- Focused on my Niche – Self-development and online course creation.
- Identified my future clients.
- Started a new YouTube channel and filled it with valuable content.
- Created a private FB group for entrepreneurs.
- Designed the framework for my first online course.
Things started happening and the excitement grew.
At the same time, I stumbled across the YouTube channel of a fellow online entrepreneur, Ida Cat, and monitored her rise to freedom via her online business. We decided to collaborate and share resources. Herewith is a list of Do's and Don'ts we feel might be of great benefit for anyone thinking of starting an online business.
Do This:
- Spend time and energy on identifying your ideal client. Don't make the mistake of promoting your awesome product/service to the entire world, you will waste valuable time and money. Rather identify your target audience, build trust with them and then promote a valuable product that would solve a problem for them.
- Start working on a lead magnet from the start. Acknowledge the importance of an email list. Remember, the social media platforms could shut down at any time and 'poof' your online business will be gone. But if you have an email list of all your clients then you can resurrect your business.
- Do consider starting a blog to boost your business. No, blogging is not dead, the world of blogging is just getting started. It is an amazing opportunity for you to promote every aspect, product, online course, and affiliate link connected to your niche with free organic traffic! Hello!
- Do consider creating an online course. It is easier than you think and there are thousands of people out there that would like to learn from you. They are hungry to learn about your skills and talents. Top Tip: Keep in mind that what is 'ordinary' for you, is 'WOW' for someone else.
- Do spend some time to pen down a 'killer' Instagram BIO description. Within one sentence you need to tell your audience what you do and how you can help them. Look at our Instagram BIOs as an example.
- @InstaGJacques - Helping Others To Visualize, Create & Kick-Start Their Online Business!
- @Idacatentrepreneurship - Strategist To Those Who DARE To Dream Differently!
Ida Cat says:
- Have the confidence to talk about your business. Don't fall into the 'Fear & Rejection' trap. Your friends and family will be your first support pillar. When they hear of someone needing what you are offering, they are also very likely to suggest your products or services to them. Talk the Talk!
- Keep yourself educated. Keep up with new trends and implement them in your business. You need to be on top of your game with this one, guys. Know what is going on in your industry by doing research, keeping up to date with news, and checking Google Trends regularly.
- What is your Sustainable-Competitive-Advantage? Identify and build on that, constantly! You need to differentiate yourself from your competitors in such a way that you can maintain your advantage. This can only be done if you keep tabs on your competitors and keep building your competitive advantage. The result? Sustainability.
New World Order - T-Shirt Fun
Visit The Funky Clothing Store.
Don't Do This:
- Do not start with affiliate marketing. Although affiliate marketing is a great concept and it is possible to make good money with it, it does not happen overnight. You need an audience first. So, if you have a very small following on social and you try to force your affiliate marketing links on them you will make no sales and get frustrated. Top Tip: Once you do have a following, then only promote affiliate links for products and services that you use yourself.
- Don't think small – Think Big. From the start, have the mindset of creating numerous digital products and not just one. Remember, your YouTube channel and blog will become the windows into your Digital Product Portal for potential clients to look through and view your 'merchandise'.
- For your blog, (a must if you are serious about having an online business) spend a little money and get a yourawesomename.com site instead of a yourname.somethingelse.com site. This will help when you want to monetize your blog.
- Don't try to be someone else on YouTube. There can only be one Vanessa Lau, Gillian Perkins, and Graham Cochrane. Even if you try to imitate them it won't work, it's not sustainable and you will suffer from burnout. JUST BE YOU.
- Don't upload random videos on your YouTube channel. If you are serious about building an online business, then upload videos that are part of your niche and that add value to the life of your identified client.
Ida Cat says:
- Become a specialist in your field. Don't try to be a 'jack-of-all-trades. If you spread yourself too thin then you will burn out. Focus on the thing you are good at and build a business around it.
- Don't focus on excuses. Away with EXCUSES! There will always be an excuse for why you are not starting your own business, or why you are pursuing your dreams less than before. That's just your brain trying to avoid hardship. Entrepreneurship IS hard. Tough. You have to get moving and do it if you want it to be part of your future.
Hey!
I'm Ida and I'm a full-time entrepreneur with my degree in BCom Entrepreneurship. I'm super excited to take you all along this crazy journey as I build my businesses from the ground up. Building a successful business takes grit, hard work, and perseverance. I'm taking you on the road with obstacles, celebrations, and marketing, finance, and business tips and tricks along the way, giving you a good look inside the life of a start-up entrepreneur.
Where to reach me: Instagram: @IdaCatBekker
Email: idacatbekker@gmail.com
---
Would you like to become an online entrepreneur?
Consider the YOU-24/777 Academy FB group. An interactive online meeting place for start-up entrepreneurs. Gather knowledge and find inspiration!
If you would like to get started with an online business, but you are not sure where to start (because of a tsunami of conflicting information) then click on the link below and get a basic framework for online success.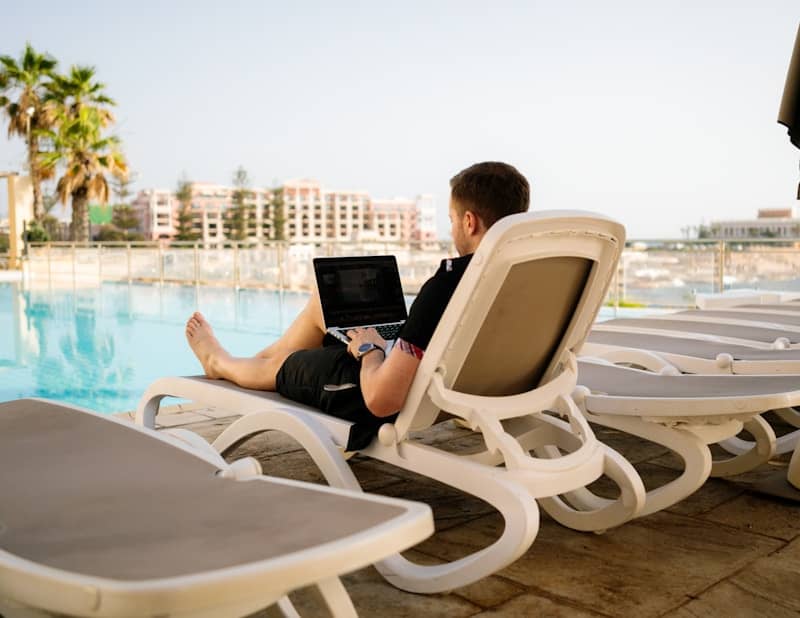 This post has been sponsored by the friendly team from REVIX.
Effortlessly invest in major Crypto while keeping an eye on Ai, Robotics, Electric Vehicles, Legal Cannabis & Clean Energy.